In the digital age, technology has revolutionized the way we conduct business and manage our finances. This shift is evident in the trucking industry, where an increasing number of truckers are opting to file their Form 2290 truck taxes online. In this article, we will explore the reasons behind this growing trend and the benefits it offers to American truckers. We will also discuss the convenience and efficiency provided by Truck2290, an online platform that specializes in Form 2290 filing services.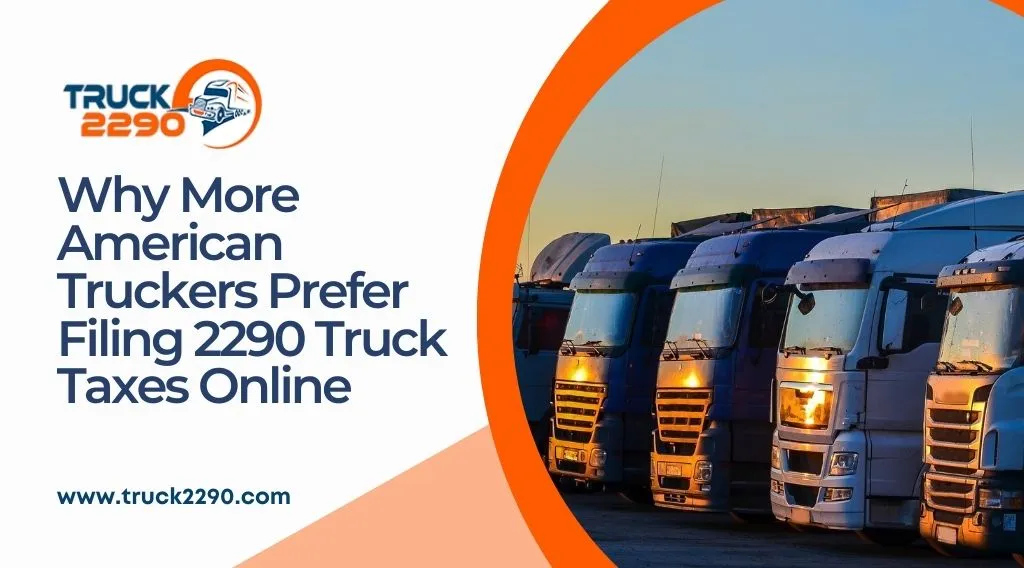 Table Of Content
The Convenience of Online Form 2290 Filing
Time-saving benefits: Filing taxes online eliminates the need for manual paperwork, trips to the IRS office, and waiting in long queues. Truckers can file their Form 2290 from the comfort of their homes or on the road, saving valuable time.
24/7 accessibility: Online filing allows truckers to submit their taxes at any time, regardless of business hours. This flexibility is particularly beneficial for those with busy schedules and irregular working hours.
Ease of use: Online platforms like Truck2290 provide a user-friendly interface that simplifies the filing process. Truckers can easily navigate through the form and submit their tax information with ease.
Cost-Efficiency and Accuracy
Cost savings: Traditional tax filing methods often involve expenses such as printing, postage, and travel costs. By filing taxes online, truckers can significantly reduce these overhead expenses.
Reduced errors: Online filing eliminates the chances of errors that commonly occur with manual data entry. The automated validation systems employed by platforms like Truck2290 help truckers avoid mistakes, ensuring accurate tax filings.
Faster processing: Online submissions are processed more quickly than paper filings. This means truckers can receive their stamped Schedule 1, which serves as proof of payment, in a shorter timeframe.
Enhanced Record-Keeping and Security
Digital records: Online filing platforms such as Truck2290 maintain a digital record of the filed taxes. This eliminates the need for physical storage and allows truckers to access their tax records easily whenever needed.
Improved data security: Trusted online platforms prioritize data security and employ advanced encryption techniques to protect sensitive information. Truckers can rest assured that their personal and financial details are safeguarded.
Audit assistance: In case of an audit, having digital records readily available can simplify the process for truckers. Online filing platforms like Truck2290 offer support and guidance to truckers throughout the audit procedure.
Customer Support and Assistance
Dedicated support: Online filing platforms provide customer support through various channels such as live chat, email, and phone. Truckers can seek assistance whenever they have queries or need guidance regarding their Form 2290 filing.
Expert advice: Truck2290, for instance, has a team of tax professionals who are well-versed in IRS regulations. They can provide accurate information and guidance to truckers, ensuring compliance with tax laws.
Time-saving assistance: By utilizing online filing platforms, truckers can rely on the expertise of professionals who specialize in Form 2290 filings. This saves them the time and effort of navigating complex tax requirements on their own.
Conclusion:
As the trucking industry continues to embrace technological advancements, more American truckers are recognizing the numerous advantages of filing their Form 2290 truck taxes online. The convenience, cost-efficiency, accuracy, enhanced record-keeping, security, and reliable customer support provided by online platforms like Truck2290 make the online filing option increasingly popular. By leveraging these benefits, truckers can streamline their tax filing process, save time and money, and focus on what they do best: keeping America's goods moving.
FAQs
What are the requirements for filing 2290 truck taxes online?
The requirements for filing 2290 truck taxes online vary depending on the e-file provider you use. However, most providers require that you have a valid taxpayer identification number (TIN), a credit or debit card, and an internet connection.
What are the benefits of using an IRS-approved e-file provider to file Form 2290?
There are several benefits to using an IRS-approved e-file provider to file Form 2290. These benefits include:
Ease of use: IRS-approved e-file providers offer user-friendly online filing systems that make it easy to file Form 2290.
Security: IRS-approved e-file providers use secure online filing systems that protect your personal and financial information.
Support: IRS-approved e-file providers offer customer support that can help you if you have any questions or problems filing Form 2290.
What are the deadlines for filing Form 2290?
The deadlines for filing Form 2290 vary depending on when the vehicle was first used on public highways. For vehicles first used on or after July 1, the deadline to file Form 2290 is the last day of the month following the month of first use. For vehicles first used before July 1, the deadline to file Form 2290 is August 31.
Tags
2290 HVUT 2290 Online Filling 2290 Schedule 1 Proof 2290 tax 2290 Tax Form Online 2290 Truck Tax 2290 Vehicle Category E-file Form 2290 E-filing 2290 EIN Error Code Exemptions of Form 2290 File 2290 Tax Form Online File Form 2290 File Form 2290 Online Filling Requirements Form 2290 Form 2290 Due Date Form 2290 exemptions Form 2290 Penalties Form 8849 Gross Taxable Weight Heavy Vehicle Use Tax Heavy Vehicle Use Tax or HVUT HVUT HVUT Payment HVUT Penalty HVUT tax IRS 2290 phone number IRS approved e-file provider IRS Form 2290 IRS Form 2290 Deadline IRS Form 2290 Due Date IRS From 2290 IRS HVUT Tax IRS regulations IRS Schedule 1 Proof IRS Tax Form Pay HVUT Stamped Schedule 1 Tax Form 2290 Tips For Truckers Truck2290 Truck Driver VIN correction