As an American truck owner or driver, it's essential to stay updated on the various tax obligations that come with operating a commercial vehicle. One such requirement is filing Form 2290, the Heavy Vehicle Use Tax (HVUT) return. The deadline to file Form 2290 for vehicles first used in July 2023 is due on August 31, 2023. This article aims to provide you with the necessary information about Form 2290 and emphasize the importance of timely filing. Additionally, we will introduce Truck2290, an online service that simplifies the Form 2290 filing process.
Table Of Content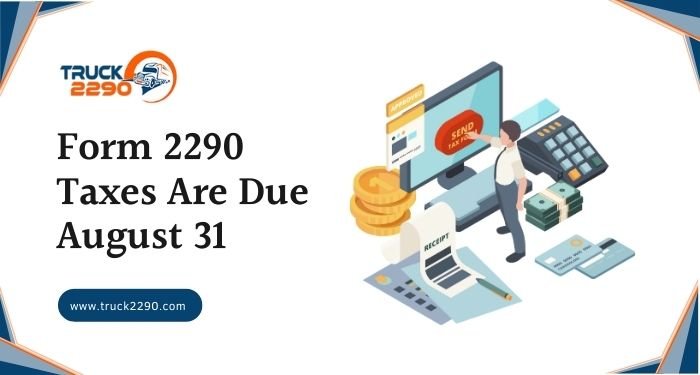 Understanding Form 2290 and its Significance
Form 2290 is a crucial tax document that must be filed annually by truck owners and operators who utilize heavy vehicles on public highways. It serves as a means for reporting and paying the Heavy Vehicle Use Tax (HVUT), which helps fund the construction and maintenance of the nation's highways. The IRS has increasingly focused on enforcing compliance with Form 2290 requirements in recent years, making it essential for truck owners and drivers to be aware of their obligations.
Consequences of Non-Compliance
The Internal Revenue Service (IRS) has intensified its efforts to promptly ensure taxpayers fulfill their Form 2290 obligations. Failing to file the form or filing it incorrectly can lead to significant consequences, including penalties, interest, and potential criminal prosecution. To avoid these unfavorable outcomes, it is vital to file Form 2290 accurately and on time.
Why File Electronically?
Truck owners and drivers are strongly encouraged to file Form 2290 electronically, offering several advantages over traditional paper filing. Electronic filing is faster, more secure, and eliminates the risk of documents being lost in the mail. Additionally, electronic filing provides immediate proof of submission and reduces the chances of errors or omissions.
Introducing Truck2290: Simplifying Form 2290 Filing
To streamline the process of filing Form 2290, Truck2290 offers an online Form 2290 filing service. With their user-friendly platform, truck owners and drivers can easily navigate through the filing process, ensuring accurate and timely submission. Here are some key features provided by Truck2290:
1. Free Tax Calculator: Truck2290 provides a free tax calculator that helps users estimate their HVUT tax liability. By inputting the necessary details, truck owners and drivers can get an idea of their tax obligation before filing.
2. Step-by-Step Guide: Truck2290 offers a comprehensive, step-by-step guide that simplifies the process of completing Form 2290. This guide walks users through each section of the form, ensuring accuracy and minimizing the chances of mistakes.
3. Frequently Asked Questions: To address common concerns and doubts, Truck2290 maintains an extensive list of frequently asked questions. This resource serves as a valuable reference for truck owners and drivers, providing clarity on various aspects of Form 2290 and its filing requirements.
Conclusion
Form 2290 is an important tax document that must be filed annually by truck owners and operators. Filing accurately and on time is vital to avoid penalties. Truck2290 is an online service that can help you file Form 2290 easily and accurately.
FAQs
What are the penalties for not filing Form 2290?
The penalties for not filing Form 2290 can be steep. The IRS can charge a late filing penalty of up to 5% of the tax due per month, up to a maximum of 25%. The IRS can also charge a penalty of up to 25% of the tax due for each vehicle that is not properly registered.
How can I file Form 2290?
Form 2290 can be filed online or by mail. To file online, you can use the IRS's e-file system. To file by mail, you can download the form from the IRS website or request a copy by phone.
Tags
2290 HVUT 2290 Online Filling 2290 Schedule 1 Proof 2290 tax 2290 Tax Form Online 2290 Truck Tax 2290 Vehicle Category E-file Form 2290 E-filing 2290 EIN Error Code Exemptions of Form 2290 File 2290 Tax Form Online File Form 2290 File Form 2290 Online Filling Requirements Form 2290 Form 2290 Due Date Form 2290 exemptions Form 2290 Penalties Form 8849 Gross Taxable Weight Heavy Vehicle Use Tax Heavy Vehicle Use Tax or HVUT HVUT HVUT Payment HVUT Penalty HVUT tax IRS 2290 phone number IRS approved e-file provider IRS Form 2290 IRS Form 2290 Deadline IRS Form 2290 Due Date IRS From 2290 IRS HVUT Tax IRS regulations IRS Schedule 1 Proof IRS Tax Form Pay HVUT Stamped Schedule 1 Tax Form 2290 Tips For Truckers Truck2290 Truck Driver VIN correction